About Nautel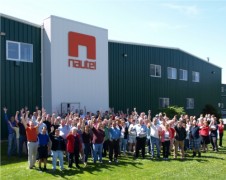 With over 50 years experience in creating highly innovative products, Nautel has earned an international reputation as a world leader in the design, manufacture, sales and support of high power, solid state RF products for AM and FM broadcast, navigation, industrial applications.
Manufacturer/Designer of RF Equipment – Transmitters, Receivers, Antennas
Manufacturer/Designer of Power Amplifiers and Power Conversion Devices
FPGA / DSP Development
Data Communications, TCP/IP
More than 20,000 customers in 177 countries rely on Nautel's RF solutions – systems that meet stringent quality standards at our ISO 9001 registered manufacturing facilities in Canada and U.S.A., and perform in harsh climates ranging from arctic, to desert, to jungle.
Invented the world's first solid-state, high-power radio beacon transmitter in 1970
Multidisciplinary Research and Development team of 40 engineering staff
Over 250 employees
Facilities in Canada and U.S.A. are ISO 9001:2008 certified
Knowledgeable technicians provide 24/7 global customer support
Financially stable: Nautel owns all land, plant, and equipment and is debt free
Award winning exporter
In summary, Nautel is big enough to offer cutting-edge technology, but small enough to respond to specific customer's needs. Understanding customers' requirements allows Nautel to design products that suit the exact specifications of each customer.