ISO 9001 Canada & USA Manufacturing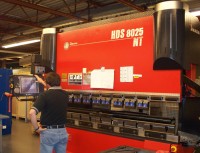 Outstanding RF designs require tightly-controlled manufacturing to meet our customers expectations and requirements.  To maintain control over all aspects of manufacturing, Nautel utilizes a highly-integrated, cell-based manufacturing system.  
Relying on very little and only strategic outsourcing, our Canadian and USA-based manufactiuring facilities have the ability to produce fast prototypes, custom-engineered solutions or runs of thousands of units. Our assemblies are manufactured onsite in our metal fabrication shop to ensure reliable and optimized design construction.
Consider the following aspects of Nautel manufacturing:
Adhere to ISO 9001
Manufacture in US or Canada
Flexible manufacturing addresses custom to medium-volume production
Milspec design
Fast prototyping